There have always been cool nerds, but this generation of young people seems to have really embraced NERD as a look.
I'm sure you have been in the streets at 3pm when kids flood home on the major corridors of your city and seen of what I speak. I love also that this trend seems to transcend a lot of race, class and other markers... from hip-hop kids in tight jeans with suspenders and neon dunks to hipster kids wearing secretary blouses with pearls and fake glasses. Here below are some of my favorite takes on this look.

Clearly, his style inspiration is this guy:
...down to the dark-rinse jeans and identical footwear.
Next, ever-present in conversations of style, Yeezy:
I'm no expert in vernacular history, but from what I understand about "cool" as an aesthetic description, it generally applies to the
un
buttoned, a casual ease. Certainly not to a guy who obviously thought carefully about exactly how much of his sleeve is visible below the cuff of his jacket, and definitely not to anything plaid. In fact, "nerd in a plaid suit" is such a ubiquitous idea that it has it's own
stock photo
:
What cool nerds have done for us is internalize the entire concept of cool. They've made cool into an intrinsic quality, so that in fact, dressing like an uncool person can only prove how cool you really are - your swag shines through in spite of your fit, not because of it. Reminds me of the way pimps wear pink suits and roller sets... but I digress.
Check out super-nerd Kid Cudi:
I know what you're thinking.
Kid Cudi's not a nerd! Everybody be tryna jack his swag!!
All this is true. But If you are old enough that you ever wore your overalls backwards or bought size 40 jeans for your 28-inch waist, you remember a time when skinny jeans and oversized glasses was a look relegated to this guy: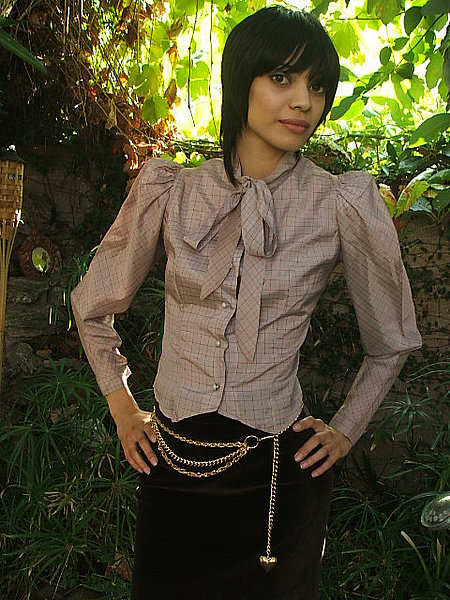 I'm not sure about the charm belt, but definitely her inner swag is working the poop out of those leg-o-mutton sleeves and that gift-wrap neck bow on that synthetic plaid blouse. A proper homage if ever there was one to the ladies of 9 to 5:
If only every girl raiding her local vintage shop for polyester neck frills could work this look like Jane Fonda as Judy Benly! (Hint: ditch the feather earrings and thong headband you were going to wear and get some button earrings and a dainty wrist-watch instead).
If you're looking for a way to claim your nerd set even more boldly than the illustrious folks above, you can do what I did and purchase these from
sock dreams
:
I wear them a lot, mostly when I am playing roller derby with the
ShEvil Dead
. Because zombie girls love you for your (fashion) brainz!
And if you're not a nerd... "Just join us cuz uh, no-one's gonna really be free until nerd persecution ends."
Love
Carrie